Like most devices, door openers may also malfunction. This needs to be addressed immediately to not compromise home security and safety. If you are looking for a LiftMaster 8500 troubleshooting guide, this one is for you.
The LiftMaster 8500 is LiftMaster's innovative wall-mount and Wi-Fi-capable garage door opener. It has all the amazing features of convenient and hands-free door openers like smartphone control, automatic deadbolt lock, remote light, etc.
Homeowners prefer the LiftMaster 8500 for its noiseless operation and reduced vibration compared to door openers with motors mounted on the ceiling.
Common LiftMaster 8500 Blinking Code Issues
Many of the common garage door opener and light problems can be remedied by minor repairs. If troubleshooting does not resolve the problem, a professional technician may be necessary.
One of the best features of the LiftMaster is its self-diagnostic warning lights or blinking codes. The device's LED light will blink a certain number of times to signify its specific garage door issues.
This safety feature and program is very handy for LiftMaster 8500 troubleshooting. The common garage door opener blinking codes and issues are:
1 Flash
One blink or flash indicates a disconnected or cut wire. It can be solved by reattaching or replacing the affected wires in the motor housing of the garage door light opener.
2 Flashes
Safety reversing sensor wires are shorted or reversed. It can be corrected by connecting the wires to the appropriate polarity.
It may also mean the remote is locked out and can be re-accessed by pressing the LOCK button on the door opener and remote control.
3 Flashes
Three flashes can mean door control problems or short wire problems. If the doors activate when the wires in the motor unit are touched together, you may need to replace the door control. Otherwise, replace the wires as it is likely to be shorted.
4 Flashes
Safety reversing sensors and misaligned. The door may work again after readjusting and realigning the door sensors.
5 Flashes
Unrecognized RPM (rotations-per-minute) of the motor sensor. Power-cycle the motor by unplugging the unit for a few seconds and turning it back on to see if it works.
9 Flashes
If the LiftMaster blinks nine times and reverses while closing, the doorway is either obstructed or the cable tension monitor is reversed.
Remove possible obstructions, inspect the cable tension monitor and door opener connection, or replace your cable tension monitor.
Answering 7 LiftMaster 8500 Troubleshooting Questions
There might be times when tinkering with these probable problems does not bring any good. Sometimes, the app or its remote control fails to operate the door.
Here's how to deal with some of these problems not otherwise solved by acknowledging the blinking codes.
1. Why is the LiftMaster garage door not working?
If a door is not working, it might be due to electrical problems, battery problems, or it is simply locked. The power door lock is disabled during installation; enable it to see if it works.
Check for electric power or problems with your electric connection. If your garage door and garage door light opener use a battery like the LiftMaster 8500W, the problem may sometimes point to a battery issue.
Check the contacts for rust and sand them with fine-grit sandpaper. If it does not work, replace the batteries.
2. What to do when the door does not work because of power failure?
Use the emergency release handle to disconnect the door and operate it manually. Just pull the manual release again once the power is restored.
3. How come the remote control does not activate the door?
The LOCK feature on the control panel is likely activated, so try disabling these door locks.
If you are using a replacement remote control, make sure that it is compatible with the specific garage door opener. Learn more about replacement remote controls in this post.
4. Why does my garage door not operate from the myQ app or website?
LiftMaster Internet Gateway will operate slow or fail to work in Battery Backup Mode. Call an electrician and have the internet gateway connected to an electrical power outlet. In the event of a power outage, the myQ app will also not respond.
It is a safety feature to avoid being locked out. If there is a power failure, you need to close and open the garage door again for the myQ app to work.
5. What happens when the red and yellow LED lights are blinking?
Blinking lights or codes are handy problem indicators for LiftMaster 8500 troubleshooting. You can learn more about this in your user manual. Rapid blinking lights can be due to obstructions or improper door balance.
You can check it and remove the blockage or have a technician readjust the garage door. The red and yellow lights may also mean the control panel is charging. Please wait at least 5 minutes for the door to become operational again.
6. Why does the door not close or reverse, and does the garage door opener light not blink?
Inspect the cable tension monitor to make sure that there is no slack in the cable, and readjust it if needed. You should also check for the alignment of the safety sensor or any obstruction in it. Readjust the bracket when necessary.
7. What will I do when the door stops while opening and then blinks?
If the LiftMaster garage door stops while opening and blinks ten times, the limit has been reached, and it needs reprogramming. You can readjust it in the Force Adjustment Mode of the door controller.
To do this, press the yellow button twice on the LiftMaster 8500 control panel until the LED light flashes. Press the programmed remote control to close the garage door. Push it again to open the door, and push it a third time for it to close again.
The LED indicator light bulb will stop blinking to indicate successful adjustment. If the door cannot fully open or close, check that it is properly balanced and that the door tracks and rollers work properly to ensure nothing is sticking or binding.
LiftMaster 98022 Elite Series DC Wall Mount Garage Door Opener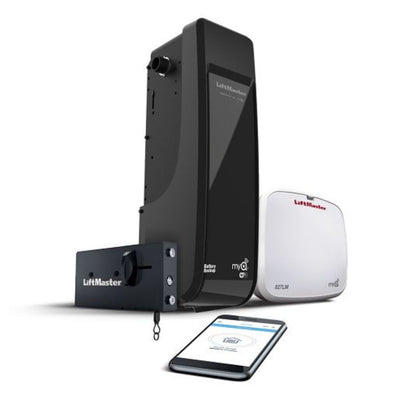 The LiftMaster 8500 wall-mount garage door opener has officially been dethroned by its successor, the LiftMaster 98022 Elite Series DC Wall Mount Garage Door Opener. This newer model boasts some incredible features, including Battery Backup and Wi-Fi Connection. Plus, it has a whopping lifting capacity of up to 850 lbs. It's the perfect addition to any garage, and with the included battery backup, you can rest assured that you won't get stuck outside in case of a power outage.
LiftMaster 8500 Troubleshooting
You can be your own handyman if you know where to look when your garage door opener breaks down. The programmed blinking codes are a great help in communicating the malfunctioning parts. If you encounter issues not stated in the manual, feel free to call your local LiftMaster dealer.
For your questions, replacement parts, accessories and other garage door needs, contact us at All Security Equipment. We will gladly assist you with LiftMaster 8500 troubleshooting inquiries and more.
We are a recognized dealer of LiftMaster garage doors and related products with guaranteed superior quality. Call us today to see how we can help you protect your home, businesses and properties.